Painting Workshop: Reframe Your Story
Create something new, something that might change the way you perceive yourself and the rewrite story you've been telling yourself about you. Manifest with the help of art.
Unable to make this date? Sign up for my mailing list to receive biweekly event-updates!
Are you seeking solace or facing insurmountable challenges? Do you feel like hitting a wall?
Discover the calming effect of art in the Reframe Your Story workshop. This transformative experience empowers you to redefine your narrative. By exploring your inner world through the artistic process, you can regain control over your story.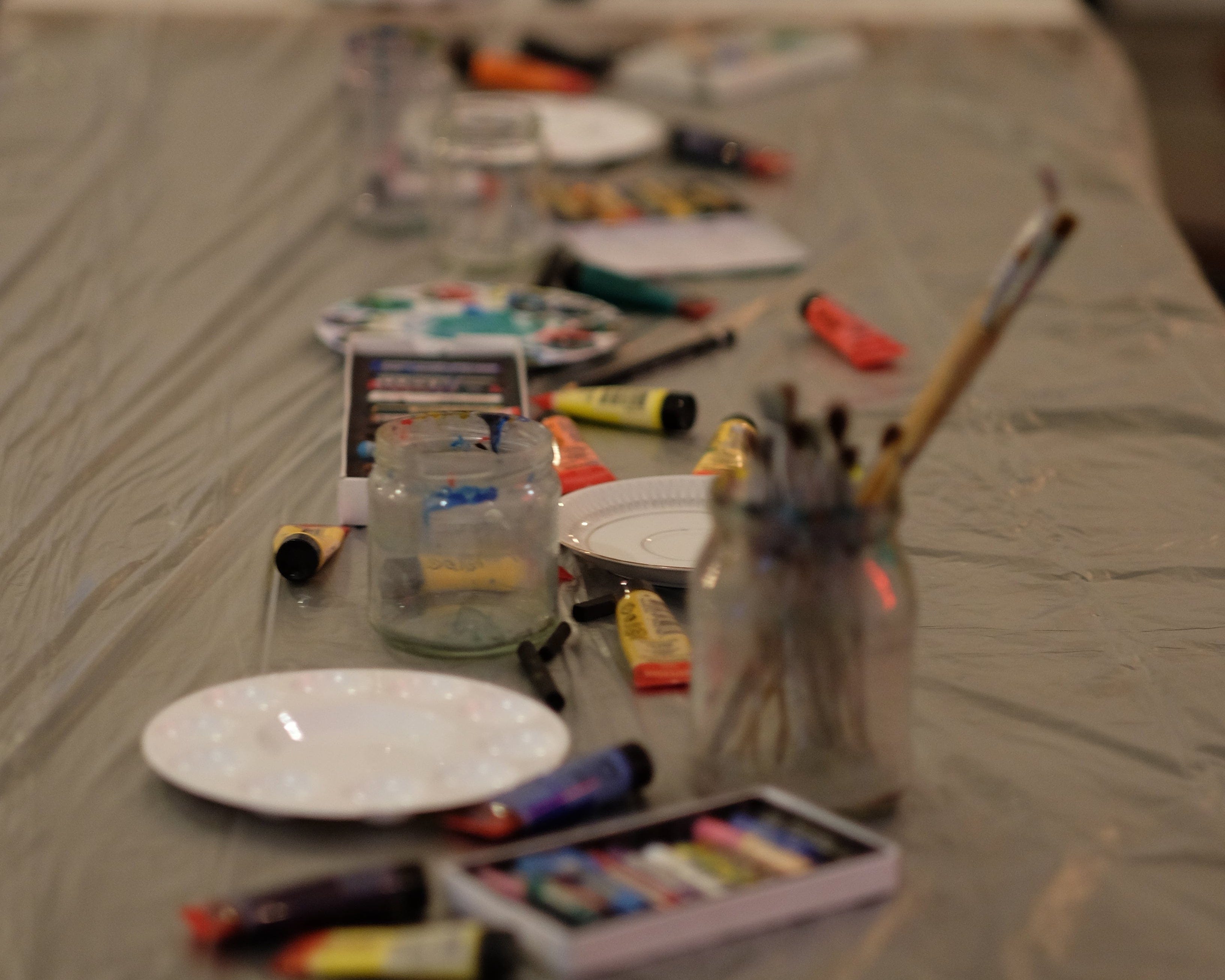 What to expect:
After a short warm-up exercise you will embark on your journey of self-discovery through different painting and writing techniques.


A partner exercise will help you connect with fellow participants, realizing you're not alone in your experiences. Sometimes, viewing life from a different perspective makes problems appear smaller.
Whether you are an experienced artist or an absolute beginner: every form of expression is appreciated. No artistic skills required!

With a maximum capacity of 12, don't miss this opportunity. Register now to save your spot and embark on your path to personal growth and self-expression.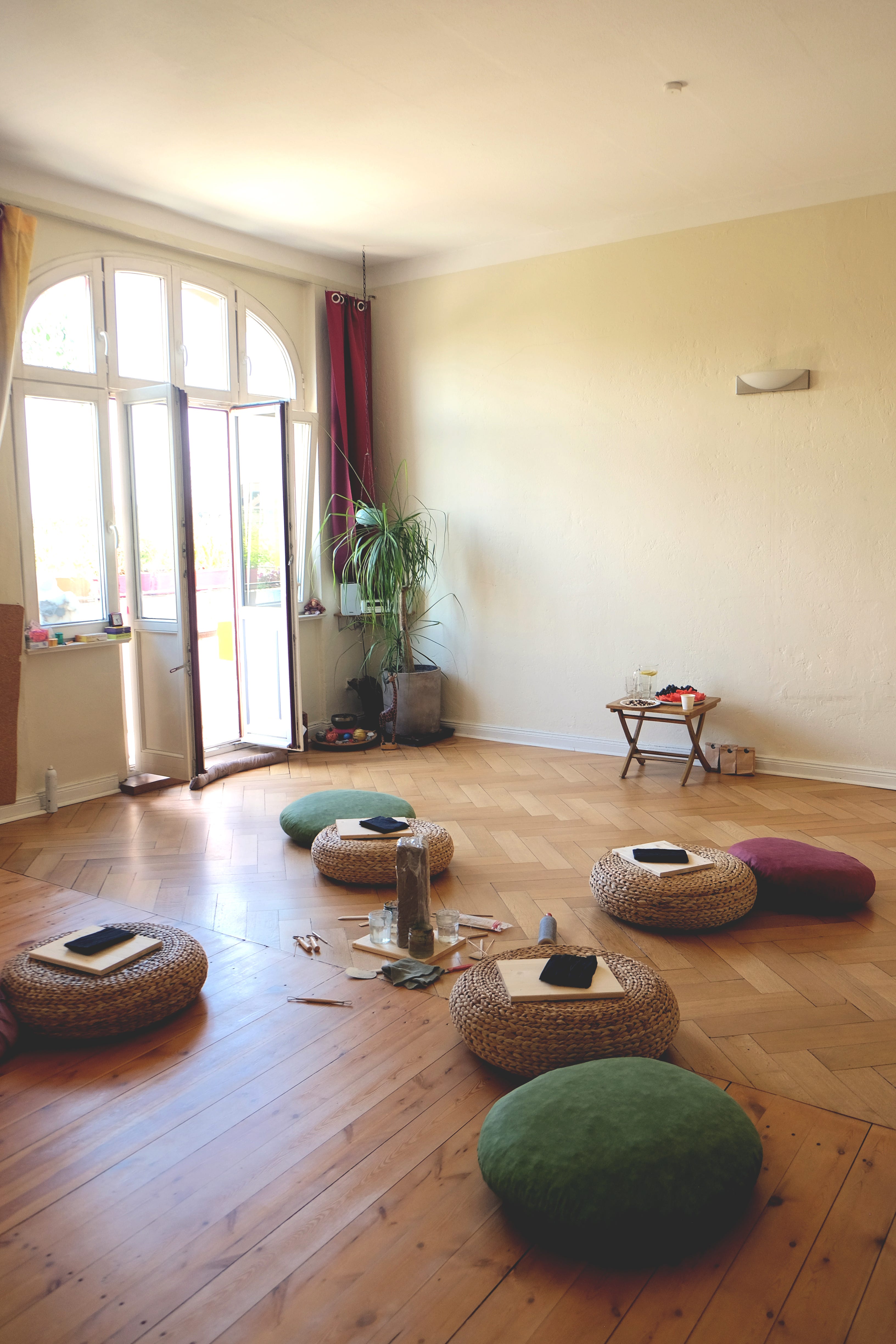 WHERE: INES, Falckensteinstraße 46, 10997 Berlin
WHEN: Saturday, 11/11/2023, 3:00 - 6:00 pm


HOW TO JOIN: Register on the website and you will receive an E-Mail with further instructions.
WHAT TO BRING: Wear clothes that don't mind a stain or two. All materials are provided by me.

TICKET PRICE: Regular admission: 60 €.
I reserve a limited amount of tickets at a concessional rate for those unable to meet the full cost. Please email me if this applies to you.
Once you registered you will be asked to pay via PayPal. After I received your payment your registration is complete.

If you cancel 24 hrs in advance you will get a full refund.


COME AND CREATE.
What past participants say...
Chloe
"I attended one of Thuli's art therapeutic workshops last year, and it really changed my whole perspective on the way I make art. The exercises we did individually and together as a group helped me to overcome my perfectionism and embrace the idea that art can be rough and imperfect and still have a positive impact.

Thuli also asked questions to guide our reflection on the art we made, and I enjoyed how open and welcoming the group atmosphere was. I can only recommend giving it a try!"
Sarah
"I attended a couple of Thuli's Workshops already and what I love most about them is the space to freely create without having to meet any sorts of expectations. For me this is a time just to myself, time to try something new, to play around, time that I normally don't take for art in my daily life. And in that time I can just relax and connect to my inner self. I loved it so much, that I even booked one of her Team-Events for my team at work :) We are all very excited and proud to bring our new art pieces home."
Tim
"Great workshop! Before participating in Thuli's Workshop I wouldn't have considered myself an artist. I was always quite shy when it came to creative work. Thuli made it easy tho to just try things out. The work with clay (Blindfolded Sculpting) made me feel calm. It's a super cool material. I didn't work with clay since I was a little child. Impressions from the workshop have come back to me over the weeks after, it feels like it has triggered something in me.

Can highly recommend this workshop and Thuli!"
Anna
"I first came to Thuli's Workshop a year ago and I have to say, it's great fun. Her soothing voice guided me through the session. I did The Power of Portrait Workshop where we got to portray others in the group and ourselves. It was a super nice way to connect to the group and I really loved the painting I made of myself.

If you want to try it out I would recommend to bring an open mind and no expectations. Because this is not an art class where someone teaches you how to do something but rather a wonderful space where I felt supported in how I wanted to express myself."

Photo: © Ksenia Diesterhof